The Fourth of the Narcissus Month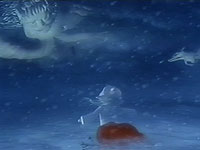 Puppet Animation

Color 12min / No Dialogue

1990 N&G Production

When Narcissuses begins to bloom,
Spring is just around the corner.
But today is the fourth of the Narcissus Month,
the day of Winter's last icy breath...

The orginal story of this film was written by Kenji Miyazawa,
the most famous fairy-tale writer and poet in Japan.